In a significant week for the U.S. markets, Derek Halpenny, Head of Research for Global Markets EMEA and International Securities, discusses the consequences for long-term interest rates and what that means for asset prices and the U.S. Dollar.
Turning to Europe, Euro-dollar has been trending lower since the beginning of 2021, however the pick up in vaccine production and roll out are reasons for optimism. In Emerging Markets, the issuance of Special Drawing Rights should mean a noticeable improvement in EM sentiment, and this means that USD will likely come under renewed selling pressure later this year.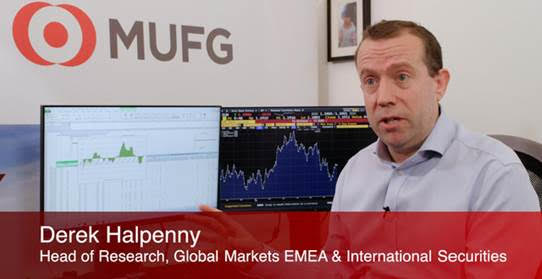 Key points
1.09 The Fed's response to higher inflation
2.32 The Covid outlook in Europe
4.24 Improving sentiment in Emerging Markets
You can view more insights from Global Markets Research on their dedicated website.
Listen to our podcasts: The Global Markets FX Week Ahead Podcast on Monday and The MUFG Global Markets Podcast on Friday.
---
Follow Derek Halpenny, Lee Hardman, and Ehsan Khoman on Twitter for more global markets insights.