Against a background of war in Ukraine and the US dollar heading to highs not seen since 2016, Derek Halpenny, Head of Research, Global Markets EMEA & International Securities, explains why investors are focused on the policy divergence between the Federal Reserve and the other major central banks. With the US economy more protected from the conflict than other European economies, markets are watching for rate hikes and quantitative tightening and the outlook for Q3 hangs on what the Fed does in upcoming meetings.
If there is one currency pair trading on this divergence story it's dollar/yen. USD/JPY is approaching its largest move since 1995 and Japan's Finance Minister Suzuki has indicated that he is watching foreign exchange rates with a sense of urgency. With the Bank of Japan meeting this week, will they change their monetary stance and intervene? Watch Derek's video blog to find out more.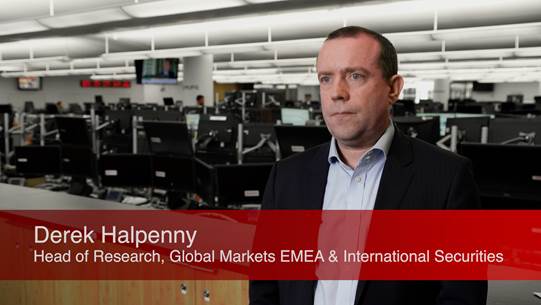 Key points
0:24 – The US dollar is heading to highs not seen since 2016. Can it continue?
1:44 – Could this strength force Japan to intervene to stop dollar/yen rising
2:58 – Would intervention work?
You can view more insights from Global Markets Research on their dedicated website.
Listen to our podcasts: The Global Markets FX Week Ahead Podcast and The MUFG Global Markets Podcast on Fridays.
---
Follow Derek Halpenny, Lee Hardman, and Ehsan Khoman on Twitter for more global markets insights.