The UK and Europe is facing a winter of discontent as natural gas prices continue to surge, and in this month's video blog, Derek Halpenny, Head of Research for Global Markets EMEA and International Securities, looks at the significant negative implications for real incomes and domestic demand. What does this volatility, paired with a backdrop of political uncertainty as candidates battle for the UK Prime Minister spot, mean for the markets?
Derek also discusses the softening of the equity markets and how financial conditions need to tighten to get to grips with high inflation rates. The Federal Reserve and other central banks such as the Bank of England and the European Central Bank will need to act to bring down inflation expectations.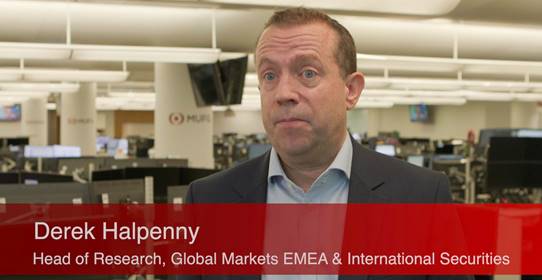 Key points
00:23 What lies ahead for the FX markets as the holiday period ends?
01:40 Can the major central banks continue to tighten monetary policy?
02:36 What scale of USD strength can we expect to the year end?
You can view more insights from Global Markets Research on their dedicated website.
Listen to our podcasts: The Global Markets FX Week Ahead Podcast and The MUFG Global Markets Podcast on Fridays.
---
Follow Derek Halpenny, Lee Hardman, and Ehsan Khoman on Twitter for more global markets insights.