In this 2021 preview video blog, Derek Halpenny, Head of Research for Global Markets EMEA and International Securities; Lee Hardman, Currency Analyst; Ehsan Khoman, Head of MENA Research and Strategy, and Sook Mei Leong, ASEAN Head of Global Markets Research, discuss the trends that may drive the global markets this year.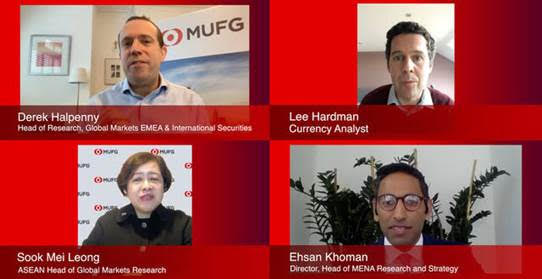 Key themes for 2021
Theme 1: The Fed's New Monetary Policy Framework - 2021, the Key Test - Derek Halpenny 00.36
Theme 2: COVID-19 Vaccines & the Road to Recovery - Lee Hardman 2.29
Theme 3: Asia ex-Japan – Forefront of global recovery in 2021 - Sook Mei Leong 4.57
Theme 4: EMs to pivot from buoyancy to outperformance - Ehsan Khoman 7.10
You can view more insights from Global Markets Research on their dedicated website.
Listen to our podcasts: The Global Markets FX Week Ahead Podcast on Monday and The MUFG Global Markets Podcast on Friday.
---
Follow Derek Halpenny, Lee Hardman, and Ehsan Khoman on Twitter for more global markets insights.