Is the U.S. Dollar now on a path to strength? Can the Federal Reserve balance the markets? And what can we expect from the Bank of England Monetary Policy Committee (MPC) meeting on Thursday?
In this month's video blog, Derek Halpenny, Head of Research Global Markets EMEA and International Securities, breaks down the implications of last week's Federal Open Market Committee (FOMC) meeting for FX markets.
Derek also looks ahead to the Bank of England MPC meeting on Thursday - Chief Economist Andy Haldane's final session. With inflation and growth figures above Bank of England predicted rates, what can we expect from the meeting?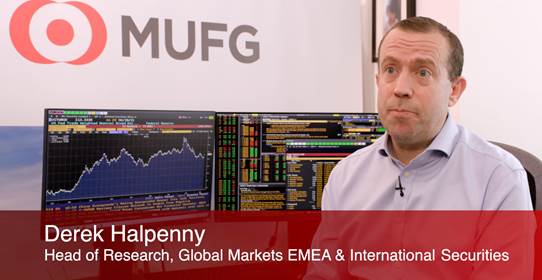 Key points
0:22 – MUFG's outlook following the Fed meeting
3:36 – Could the Bank of England trigger a similar shock?
You can view more insights from Global Markets Research on their dedicated website.
Listen to our podcasts: The Global Markets FX Week Ahead Podcast on Monday and The MUFG Global Markets Podcast on Friday.
---
Follow Derek Halpenny, Lee Hardman, and Ehsan Khoman on Twitter for more global markets insights.