This inclusivity is essential for sustainable growth for our clients and colleagues in the increasingly diverse and sophisticated global environment in which we do business. In 2017 we openly acknowledged that MUFG needs to improve its gender balance when we signed the HM Treasury Women in Finance Charter. In signing this, we made a commitment to improve the gender diversity of our senior management population. We have also launched a Gender Strategy to support these objectives, as well as focusing our efforts on the attraction, development and retention of diverse talent, while maintaining an environment in which all staff are treated fairly, irrespective of gender.
What is the Gender Pay Gap?
The Gender Pay Gap shows the difference across the workforce in the average pay of men and women. The gap is expressed as a percentage of men's earnings.
It is important to note that the Gender Pay Gap and equal pay is not the same thing – in contrast to gender pay, equal pay deals with pay differences between men and women who carry out the same or similar jobs or work of equal value.
All employees at MUFG are assessed annually using fair and transparent performance and reward processes in line with our Remuneration Policy.
MUFG's Gender Pay Gap explained
MUFG is actively working to have a gender-balanced workforce at all levels of the organisation – we consider this to be necessary for our success as a business as well as being the right thing to do for our people. We also know that this commitment will support the reduction of our Gender Pay Gap.
We are confident that MUFG's Gender Pay Gap is not an issue of equal pay, but is due to a gender imbalance both in senior management and across the business as a whole. Women are currently under-represented in the very highest paid roles. We continue to review our practices with the objective of achieving a meaningful increase in the number of women in mid and senior level positions and fostering an environment in which all staff are treated fairly irrespective of gender.
In line with MUFG becoming a signatory of the HM Treasury Women in Finance Charter, we aim to have a sustainable increase of 10% in the proportion of women in senior management roles by 2022.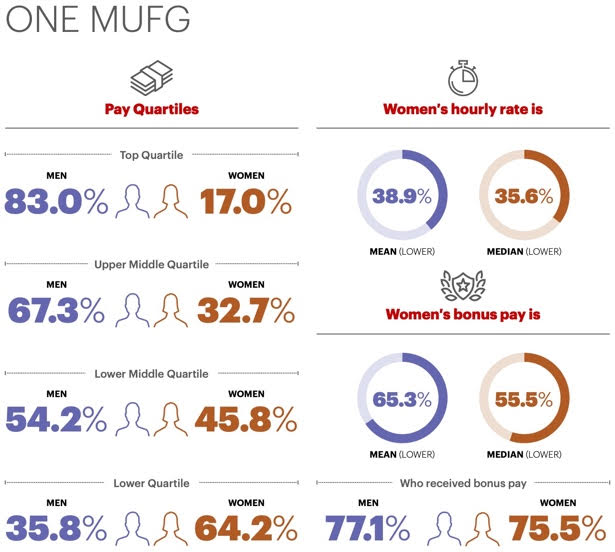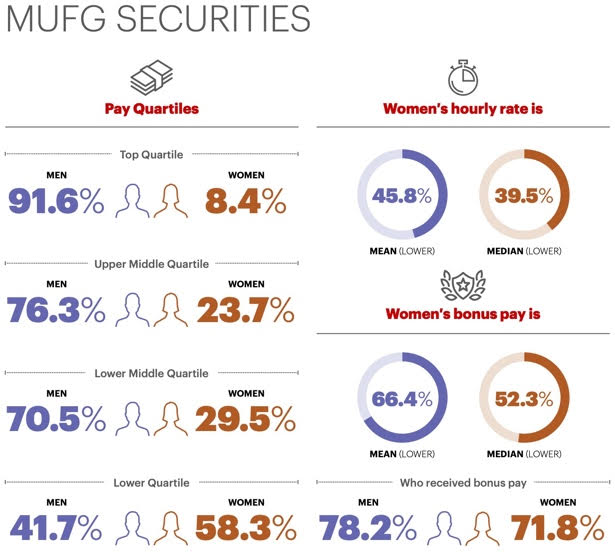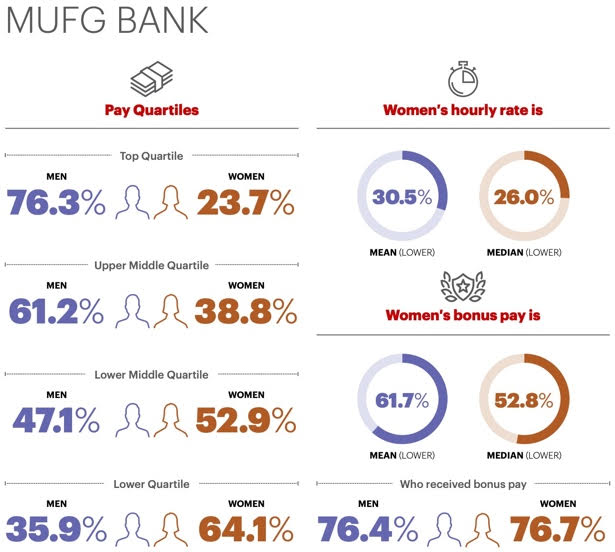 The above calculations take into account all 'relevant employees' as of 5 April 2020, as required by the Equality Act 2010 (Gender Pay Gap Information) Regulations 2017.
It is the shape of our workforce that drives our mean and median pay and bonus gaps. The four pay quartiles reaffirm our statements that women are currently under-represented in the very highest paid roles.
We have been working to implement various initiatives to achieve our external commitments both to the Women in Finance Charter and to improve our Gender Pay Gap, and have seen some success from these actions. This reflects our commitment to developing a sustainable diverse talent pipeline at all levels and not just focusing on the top layer. All senior leaders have an objective linked to our targets and what and how they deliver this is important.
Gender strategy
To support senior management in the development of their plans to progress inclusion and diversity in their business areas, MUFG has a Gender Strategy for EMEA with a suite of tools and interventions that each area can utilise for their Inclusion and Diversity plan. This Gender Strategy is delivered by Human Resources in partnership with the business. The strategy is flexible in nature and will be reviewed on an annual basis to reflect business need.
For more information on what we are doing in the Inclusion and Diversity space, please click here.
---
I confirm that the Gender Pay Gap calculations featured in the above report are accurate.
John Winter - CEO for EMEA, MUFG Bank and Securities