If we are to reach this goal, MUFG must build sustainable trust with all the stakeholders in the communities in which our business operates. In doing so, we will become a sustainable business for the long run.
To build this trust, all of our CSR investments and activities include elements of supporting our local communities, in particular young people, and our environment.
Key Objectives
Our strategy in underpinned by our approach to, and responsibility for:
The people who make up our social environment
The planet that sustains our natural environment
The profit that maintains our business environment
Four key objectives shape the investments and activities we undertake through our CSR programme:
The target is the next generation of young people
The CSR focus is on issues that are relevant to us as a business: financial education, employability skills, enterprise skills, and also the environment
Effective delivery that multiplies the impact of our investment is achieved through partnerships with local community groups, charities and other corporate partners
The impact is measurable and reflects the sustainable change we have achieved in the community through our CSR activities and the legacy we create that will outlast the activities and funding themselves
---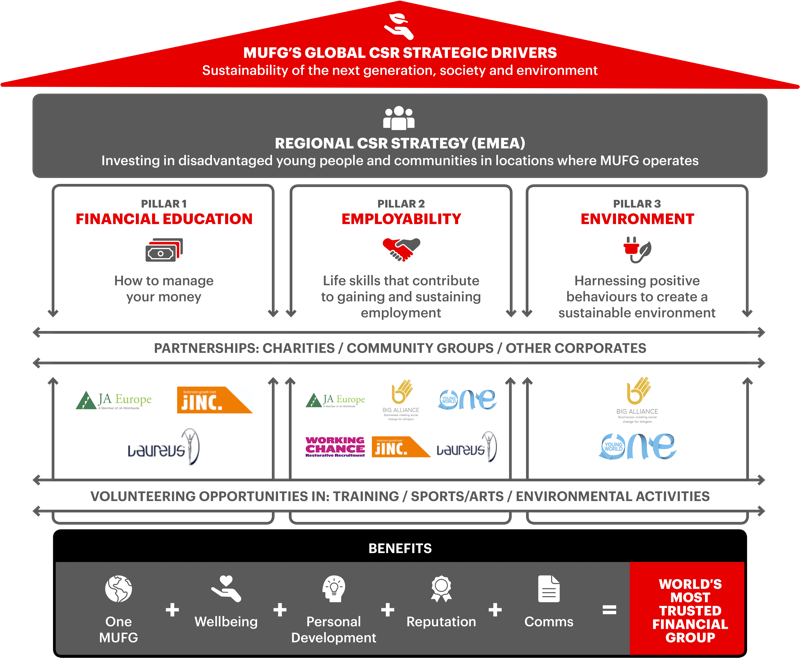 Sustainable Development Goals
MUFG is taking positive action to end poverty, keep the planet and environment stable, as well as promoting peace and harmony. It does this by supporting, globally, the UN Sustainable Development Goals (SDGs), a list of 17 targets which have been identified as being of concern to the world's development for future generations.
As the success of one goal depends on the completion of another, all of the SDGs are interlinked. The SDGs that MUFG is in the best position to engage with through its business activities are:

Goal 3: Good Health and Well-being - Ensure healthy lives and promote well-being for all at all ages

Goal 4: Quality Education - Ensure inclusive and equitable quality education and promote lifelong learning opportunities for all

Goal 7: Affordable and Clean Energy - Ensure access to affordable, reliable, sustainable and modern energy for all

Goal 8: Decent Work and Economic Growth - Promote sustained, inclusive and sustainable economic growth, full and productive employment and decent work for all

Goal 9: Industry, Innovation and Infrastructure - Build resilient infrastructure, promote inclusive and sustainable industrialisation and foster innovation

Goal 11: Sustainable Cities and Communities - Make cities and human settlements inclusive, safe, resilient and sustainable

Goal 13: Climate Action - Take urgent action to combat climate change and its impacts
Through focusing our effort and investment on our CSR programme, our EMEA strategy contributes directly to, and/or supports the goals MUFG have committed to.