MUFG's CSR programme in EMEA is tailored to each region and their particular needs to maximise the positive impact on the communities we serve. This became even more relevant during the COVID-19 pandemic, where the MUFG team is proud to have launched the Eldorado Park project in a deprived community based in Johannesburg.
MUFG, led by local CSR champions, joined forces with local organisations including Alchemy Sports and Recreation, Environmentorz, Rise Against Hunger and a group of local volunteers to push forward with the project, which included the construction of a community garden, multi-purpose sports courts and a classroom.
Members of the local community are taught agricultural and sustainability skills and vegetables grown in the garden are distributed to families in need and schools that are experiencing food shortages. Produce is also sold to local supermarkets and any income generated is invested back into the local community.
The MUFG team in Johannesburg have also supported the construction of multi-purpose sports courts where young people can gather in a safe space and play netball, football, hockey and other sports. Local students can also attend workshops on financial literacy and other life skills, do their studies and have access to the internet in the new Wi-Fi-enabled classroom.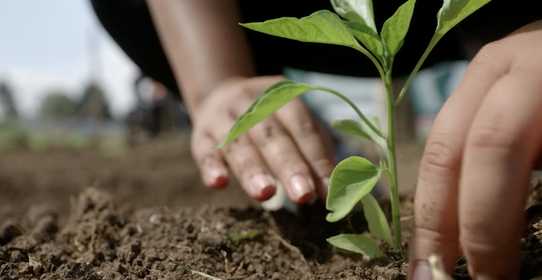 "When we came out here the first time, I saw the need," explained Olivia Sivanesan, CSR Champion, MUFG Johannesburg Representative Office. "I thought to myself, why can't MUFG start something here? You look at these kids playing here today and you know you've done something great. We're giving hope."
"I came as a volunteer and I didn't know about planting but, as I'm working, the passion comes in and I came to enjoy it," commented local resident Gail. "I'm going to join an agriculture course. I want my grandchildren, even my children, to teach their children the very same thing."
At a recent celebration day, Zayd Fredericks, Director, Alchemy Sports and Recreation commented,
"We are incredibly proud to be part of [the Meraki Project]. It is much needed and it's where the impact drives communities."
Despite the challenges of the pandemic, this vital initiative is going from strength-to-strength. There are plans to develop a larger space for the community garden and to train young people in agripreneurship. Volunteers will also be taught financial literacy, marketing, health and safety and other skills so they can start managing their own businesses.
"The project has given us all a great sense of satisfaction, in knowing that it has touched so many lives in a community in such need," says Mark Sherratt, Director, MUFG Johannesburg Representative Office.

"There has been great dedication by the team who have put in a lot of hours, often in our spare time, to help the community of Eldorado Park through the Meraki Project."
Building trusted relationships with our clients, our colleagues and our local communities is important to our long term success. Our efforts in Johannesburg are a great example of how MUFG's CSR programme underpins that trust, which enables us to work in collaboration with these communities and actively respond to their needs. As a result, we are able to deliver positive and sustainable impact across the EMEA region.