Fundraising highlights included a Laureus Super 8s cricket event and our inaugural One MUFG triathlon. We also set up our own EMEA-wide fundraising challenge, Fitprints for Good, and our London office began supporting two local organisations through Laureus.
MUFG continues to support the charity as it moves some of its activities online as a result of COVID-19.
"MUFG's values fit perfectly with our mission and vision at Laureus. At all levels of the organisation, from employees volunteering and fundraising for our programmes to the senior leadership engaging in key events, we are so grateful for their support. At Laureus, we believe that Sport Unites Us, and that is definitely true in our relationship with MUFG."
Sean Fitzpatrick, Chairman, Laureus World Sports Academy
"MUFG's values fit very well with how Laureus works. The firm genuinely wants to get to know the charities we support – it's a relationship built on trust and collaboration."
Catherine Grawich, Development Manager, Laureus


---
Fitprints for Good
Could we run, swim or cycle the equivalent distance of Johannesburg to London (21,525km) in a month to support Laureus Sport for Good? That was the CSR challenge laid down to MUFG EMEA colleagues in November 2019.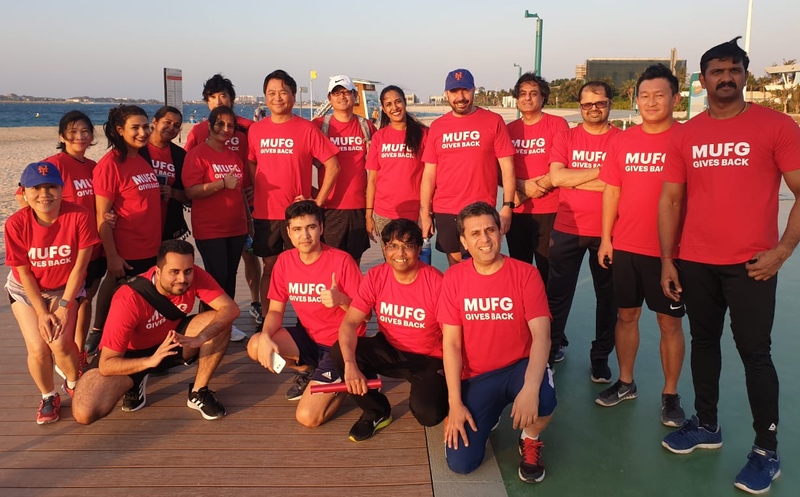 Thanks to the dedication of everyone who took part, we surpassed our target by 9,412km and raised over £40,000 for the charity.
The challenge boosted team spirit, inspired friendly competition across our EMEA offices and raised a significant amount of money to help young people overcome violence, discrimination and disadvantage.
"As a new office, Fitprints for Good was a great way to get everyone here engaged with CSR. It became quite competitive and we celebrated with a final run, together with MUFG Bank Paris, from The Louvre to the Eiffel Tower. Everyone really enjoyed the challenge and we're now looking for other ways to support Laureus."
Deborah O'Brien, Chief Administrative Officer, MUFG Securities – Paris

---
Fight for Peace and Street League
MUFG's London office named Laureus Sport for Good its charity partner for 2020/21 and, through this partnership, it is supporting two local grassroots organisations that use sport to help young people to realise their potential.
Both Fight for Peace and Street League combine sport and personal development to support young people from disadvantaged backgrounds.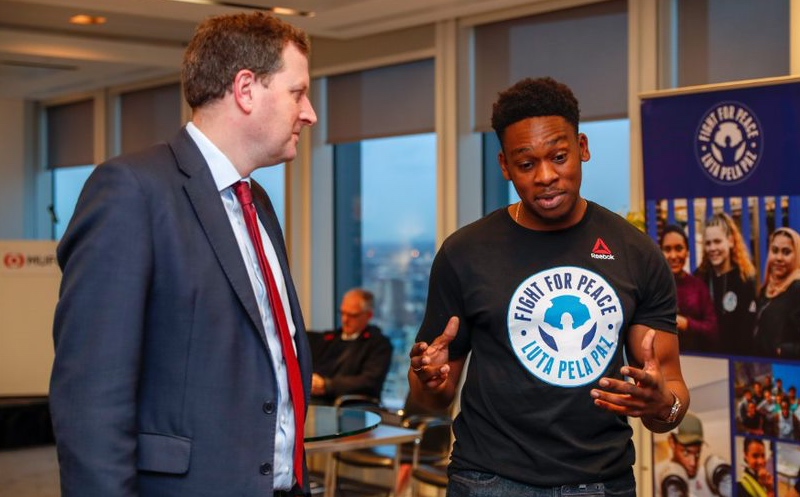 MUFG London is donating £100,000 to Laureus Sport for Good over the two-year partnership, which will directly benefit the two charities.
In addition, through these organisations, MUFG employee volunteers will take part in communication and leadership workshops, offering careers advice and interview practice that help young people develop soft skills and confidence to raise their aspirations.
"Meeting the MUFG guys was a great experience and getting to know what they do inspired me to work hard."
Tykwani, Fight for Peace participant
"Having taken part in sessions with Fight for Peace and Street League, I've seen how sport inspires young people and opens the door to teaching vital life and work skills."
Philip Roberts, Head of Investment Banking Division and Chair of CSR Committee, MUFG EMEA
"Street League has helped me to get two qualifications, a full-time job and a place at college where I can finally put my past to bed."
Darren, Street League participant
Visit the Fight for Peace and Street League websites.
---