In 2019, we restructured our Environment Committee at MUFG London and drafted a governance manual to provide stronger direction. The Committee plans to share its successes so we can guide other EMEA offices to drive their own environmental initiatives.
The UK Environment Committee, which is made up of 18 MUFG employees, focused on three workstreams in 2019/20: community engagement, recycling and resources. Highlights include:
Community engagement
We ran various environment-focused team challenges for MUFG employees (see example below) and met with other organisations to share best practice.
Recycling
In the London office, we updated our recycling communications and reduced the use of non-recyclable containers.
Resources
We collected data about power usage and printing from our Facilities team in London and replaced the hand wash in the office bathrooms with eco-friendly versions.
The Environment Committee has exciting plans for the future, including MUFG EMEA's inaugural Environment and Sustainability Week.
"We all have the ability to do good when it comes to the environment and sustainability. I don't think we should underestimate what we can achieve as individuals and as an organisation."
Hannah Barton-Jones, Analyst, Financial Crime Risk Management and co-Head, Environment Committee
"Prior to the onset of COVID-19, the Environment Committee made some great progress, based on strong foundations and infrastructure as a Committee. COVID-19 represents a big challenge for the environment, with increasing amounts of single-use items. We're committed to finding potential solutions to these new problems so we can help MUFG continue on its sustainability journey."
Kieran Hull, Associate, Investment Banking Division and co-Head, Environment Committee

---
The Story Garden
Around 35 MUFG volunteers from our London office took part in a series of team challenges at a community garden in north London between summer 2019 and February 2020.
Teaming up with our CSR partner BIG Alliance and educational charity Global Generation, we supported the development of The Story Garden. Our volunteers helped to establish growing beds and hedging, build a path, make a bee habitat and also worked with local children on sustainable art projects.
The Story Garden gave our volunteers the opportunity to work together as a team on an environmental project that will bring numerous benefits to the local community.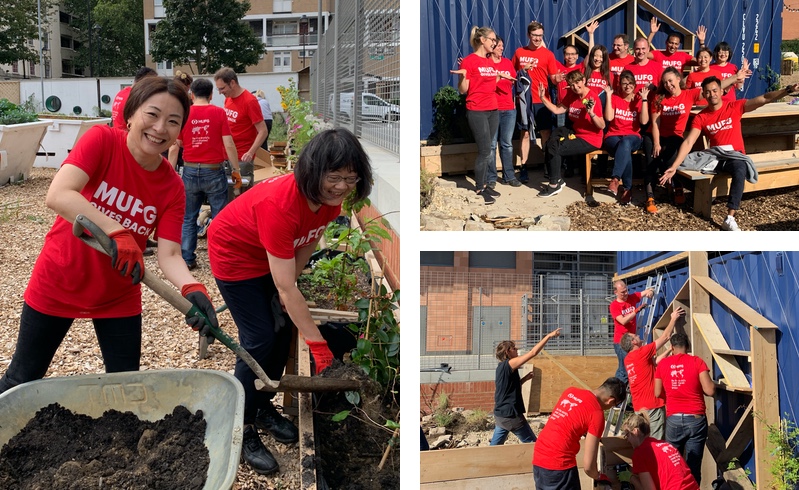 "We hope The Story Garden will offer a safe and green space for people to enjoy, learn new skills and share experiences."
Nicole Van den Eijnde, Director, Global Generation
"Getting out of the office and seeing through a project that utilises sustainable practices and will encourage community interaction and wildlife preservation was incredibly fulfilling."
Maddy Packham, Analyst, Transaction Banking Office, MUFG EMEA
Visit the Global Generation wesbite.
---